Loft renovation - two bedrooms and a bathroom added in weeks. Lovely. (20/10)
Incredible builders, Chris (07517 905598), Mirek and lads
                                Bathroom by Broadway Bathrooms (thanks Derek), Putney                                                                    Phone: 020 8616 4408     Email: sales@broadwaybathrooms.com                                          Address: 130-132 Upper Richmond Road, Putney, London SW15 2SP  
      
Ground Floor renovation - latest (29/10)
Having to wait on Building Control (my fault) - we have to give 5 days notice which means build starting on Friday 2nd. Quick run through of items on my project plan as I haven't gone through a bigger company this time. I may also have over-egged the design stage but I really wanted to get it right and invested my money in the design. It is a straightforward build with no protections on the property. The time estimates are best case scenario.
NOTE: This is just my experience and I may well have missed items out as I am learning on the go, so please check everything (I accept no liability). I am not advocating any of the services just yet (they have all been great so far) but I will wait till it is all over and give you an update.
I had an idea about what I wanted and did some research around planning consent (googled local council)
Found some builders and looked at reference sites (previous jobs)
Got a Digital Measured survey (Townscape Survey created a CAD drawing of the whole house) - week 1
Went looking for a kitchen with the survey and my idea for the extension.
Met architect on site to discuss project (Red Squirrel Architects RIBA stage 1) - week 1
Got architect to draw up preliminary design proposal - week 2 - 4 (RIBA stage 2)
Went looking for a kitchen again.
Got architect to develop preferred proposal (RIBA stage 3) - week 4 - 6
Went looking for a kitchen again.
Put in for planning permission (architect did this) - week 6 - 14
You might need a drain survey done (Thames Water)
Party Wall and Line of Junction signatures from your neighbours (standard letters on line or you can get someone to act as agent for a fee e.g. Vincent Brown & Associates) - between week 6 and 14
Structural engineer (Paul Rogers) created structural plans for builders - week 6 - 16
Planning permission granted - week 14 (we had a delay due to limits on heights but resolved it quickly)
Building Control arrangements were put in place (e.g. contacted Complete Building Controls @ £750 or you can go via council I think). I left this too late and it held up the start of the build - they need 5 days minimum to clear with the council - week 14 - 16
My advice is to keep your builders up to date with progress and get several quotes and agree a staged payment plan, with the last payment being after snagging is complete.
Build a budget spreadsheet with all the costs in there that aren't included as well as those that are in the builders quote * (see note)
The builders and the structural engineer may need to meet on site to dig an inspection pit to look at the foundations and the drain situation (week 14-16).
Build begins 2nd November.
Ground Floor renovation - Budgets
NOTE: This is just my experience and I may well have missed items out as I am learning on the go, so please check everything (I accept no liability).
Items not usually included in a builders quote that you might need to budget for:
Kitchen and fitting (ovens, fridge, washing machine - if you are moving it inside a utility room then you may need a new one..)
Flooring in the extension/utility room/downstairs cloakroom
Downstairs cloakroom furniture (loo, handbasin, shower?, mirror, towel rail/heater)
Tiles for the downstairs cloakroom wall if shower involved
Splashback for the kitchen
Extra plug points/lighting (some included)
Bifold doors
Building control fees
Party Wall fees
Thames Water build over notice fees (if needed)
Skip licences
Parking for contractors
Planning approval submission fees to local council
Ground Floor renovation - new kitchen and 4m extension. Utility room, bathroom and chill out area leading to the garden...starting soon.
Taking a trip to the Grand Designs Live show in Birmingham on the 14th October to try and get some inspiration. I may even get a glimpse of the extraordinary Kevin McCloud - so passionate about design and  so respectful of the people he interviews, love it.
Monday 22nd October start date - eek
So the builders dug an inspection pit and it looks like we've had a very big mole through the garden. Exciting...
              
     

Ground Floor renovation - latest (04/02/19)
Today my kitchen installation started - completely over-excited, it's a weeny bit embarrassing. I keep wanting to chat to Ingus the installer from County Kitchens Esher (Sigma 3) and feed him but I think he knows how people get at this stage.
So we lived with a temporary kitchen since November and it isn't that bad really. I would just like a hob an access to some decent pots so I can do some proper dinners and bake a heap of cakes. Soon....
Quick Review:
County Kitchens Esher (Sigma 3) - so far have been brilliant. I've been designing this kitchen for some time with the wonderful Oliver Wilcox who has managed not to thump me despite my deciding to change the colour of the doors, handles, and worktops at the last meeting, oh and I did change the room it was going to be in, at one stage. Poor bloke.
Steve Callman the Installation Manager is now getting my stress and doing really well to keep everything on track. He's done a great job visiting the house 3 times to check the build progress and measurements and tweaking the plans - amazing service. 
Apparently this service, from design to fitting, is the USP for County Kitchens, confirmed by others who have experienced this and professional builders.
I do love the oak interiors for the drawers...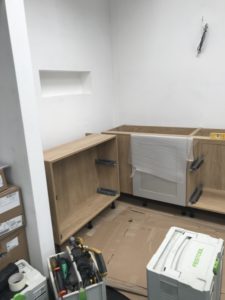 Ground Floor renovation - latest May 2019
So here are a few pictures of the final results. I am so pleased with our new addition, and particularly love the laundry room and my built in larder. Fab. Thanks to all who helped (particularly my WhatsApp support group).